Cybersecurity specialists revealed that the information of more than 500,000 Singapore Airlines frequent flyers was compromised in an incident related to SITA, an air communications and IT provider. This is the second time a SITA-related cybersecurity incident is reported in less than a week.
Although it does not work directly with SITA, Singapore Airlines shared a restricted set of files with siTA as part of the Star Alliance group framework, the airline revealed in a statement. The company mentions that this practice is due to the need to facilitate verification of the status of some memberships, as well as to better serve beneficiaries.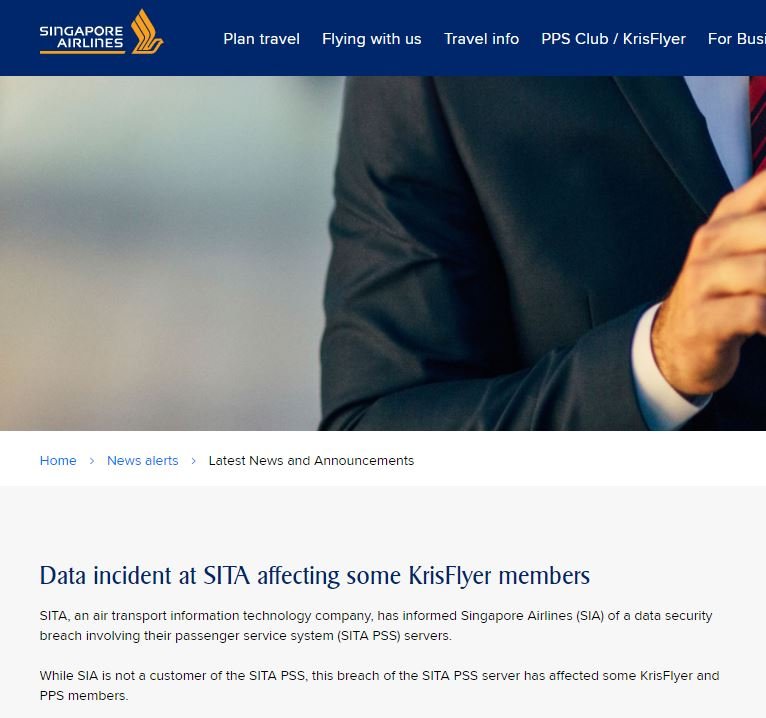 SITA mentions that it notified Singapore Airlines of the leak, although the company did not add further details about the incident, so the date of the leak and the type of information compromised is unknown. However, a recent report mentions that a Star Alliance employee would have used this system carelessly; It is worth mentioning that Star Alliance is an international airline organization.
Affected users were members of KrisFlyer, the airlines frequent flyer rewards program. Singapore Airlines added that the compromised information only includes the membership number and user status; although in some cases threat actors may have accessed an undesid number of usernames.
On the other hand, SITA released a statement confirming that the security breach was the result of a highly sophisticated cyberattack. The incident was detected on 24 February, mentioning that immediate action was taken to mitigate the possible consequences of the leak.
In subsequent statements, a SITA representative refused to acknowledge the exact date of the incident on the argument that the investigation is still ongoing. Nor did the spokeswoman reveal what other organizations were affected by this data breach or the types of information compromised. However, the spokeswoman acknowledged that some other airlines might also be affected, including Jeju Air, Finnair and Malaysia Airlines. Cybersecurity experts mention that this information suggests that SITA was involved in a reported violation earlier this week that affected Malaysia Airlines enrich frequent flyer members.
This incident has not yet been confirmed, although compromised airlines may issue statements about it in the coming days. To learn more about information security risks, malware variants, vulnerabilities and information technologies, feel free to access the International Institute of Cyber Security (IICS) website.
The post Hundreds of thousands of frequent flyers affected by airline data breach appeared first on Cyber Security News | Exploit One | Hacking News.