The most recent days have been very busy for Parler, a right-wing social media platform, as after a brief rise in popularity the most important technology companies refused to continue hosting their databases, mobile application and source code. As if that weren't enough, a group of analysts managed to collect a huge amount of personal data from their users.
Parler would have helped hundreds of supporters of still President Donald Trump organize the invasion of the U.S. Capitol, which occurred just a few days ago.
Alleged researchers claim to have downloaded between 70 to 80 TB of information collected by Parler, including photos, videos, and group conversations, all before Amazon Web Services (AWS), Apple, Google, and other companies removed any link to Parler and the ideas its members profess. This information is available online.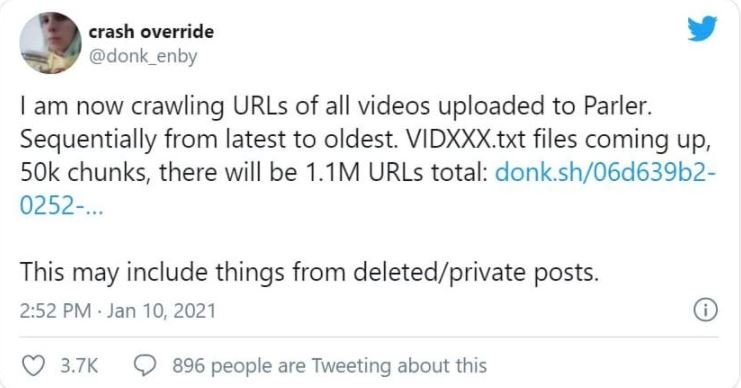 One of the researchers, under the pseudonym "donk_enby", first announced the availability of this information via Twitter, mentioning that the cybersecurity community detected this incident after B2B, a courier service provider, accidentally leaked the details of its business partners.
Soon after, researchers began creating admin accounts at Parler, which was easy considering that their email and phone verification services no longer worked by then.
A publication on Reddit suggests that researchers subsequently used these accounts to download the data stored by the platform. This can be a serious incident considering that multiple Parler users authenticated using photographs of official documents, such as passport or driver's licenses, in addition to using data from their location to the platform. Researchers confirmed that the photographs exposed include date, time, and location metadata.
The incident continues to be investigated, however, hundreds of Trump supporters have begun to express concerns about a potential large-scale data leak, not to mention that this information can be used by federal authorities to find everyone involved in the Capitol attack, as even President Trump himself assured that they would be arrested and prosecuted.
The post Data breach in Parler; over 70 TB of sensitive information exposed appeared first on Cyber Security News | Exploit One | Hacking News.